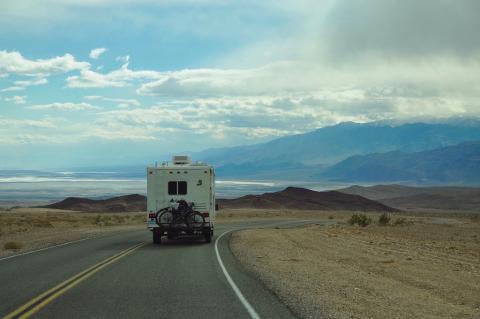 Going across the country has become easy with the constant availability of flights, trains and busses. But if you want to make an adventure out of your next trip out of the city, then renting an RV can be pretty exciting!
Renting an RV is a good idea, especially if you are looking forward to travelling with your whole family or a group of people. Instead of hushed conversations in a flight, an RV will provide the privacy and comfort of chatting, laughing and enjoying as loudly as you want. It also allows for an easier journey in terms of flexibility and convenience.
But just like any means of transport, there are a couple of things that need to be taken care of before you can start on your RV motorhome journey across the country. As the RV rental industry has a number of motor homes to choose from, the renters need to first and foremost make some quick and important decisions.
If you are planning on renting an RV then there are some questions you need to ask yourself first.
Trip Characteristics And Renting Features
How many people will be travelling on the trip?
Depending on the number of people planning to go on the trip, you will have to pick an RV that is comfortable enough to fit those many people. This is a big decision, so ensure to take all factors into account and take into consideration luggage and sleeping or sitting space as well.
Are any children or pets travelling with you?
When there are children or pets travelling with you, there are certain additional arrangements you need to make. Ensure you check the facilities available in the RV motorhome for the safety and well being of small kids and animals.
The rental company may even need you to submit an additional fee or deposit incase there is a pet travelling with you. Enquire about any papers and veterinary certificates that may be required.
Do I need a special license for driving any kind of RV?
This is an important concern, so make sure to check with the rental company about what license you need for your travel. Also, check whether that rule applies in all the states you will pass through.
Do they offer a quick training for first time RV drivers?
Driving an RV is not at all like driving the average car. The big size makes it slightly difficult to maneuver and turn on the road, especially highways. Check for any special training classes or sessions that you can take with the RV company before you make the deal for renting an RV.
Training can also be from the point of view of maintaining the vehicle as much as driving it. There may even be classes to explain the proper usage of appliances inside the RV, optimal usage of space, cleaning and maintaining the vehicle for better working conditions.
Will you be camping outside for the night? Or sleeping inside the RV?
Deciding on the sleeping arrangements in advance will be a very good idea so you know the number of supplies you need to set up the beds. Sleeping inside the RV can get cramped when there is a larger group of people travelling, so some may want to camp outside.
If you choose to do so, make sure to carry sleeping tents and inflatable beds or sleeping bags, for the appropriate number of people. Also, enquire from your RV rental company about available campsites in the places that you are travelling, to safely dock and spend the night.
If you plan on spending the night inside the RV, check with your RV company about how many people would fit in the motorhome you are choosing, and which would be the most comfortable for you. Ask about sleeping utilities like bed sheets, pillows and even extra mattresses that need to be taken on the trip.
Going to travel across a few states or countries?
Each state or country you cross will have different rules about RV usage, parking and driving. Check with your rental company about the license needed for driving your rented vehicle, as some places require an additional certification.
What weather conditions are you going to be travelling in?
Based on the weather conditions of the area that you will be travelling in, your rented RV will have to be prepared. Incase, you are travelling to a cold, winter place then it needs to be winterized so that the water doesn't freeze in the pipes due to the low temperatures.
If you are going to be travelling in warm, summery conditions, the RV needs to be inspected for full air conditioning and cooling facilities. Ensure to check your rented RV's cooling system in advance, because its tough staying inside a hot RV!
To travel in an RV motorhome for even two or three days, much less a week, can become difficult without certain utilities inside. As the large vehicle is going to be your home for the while you are travelling, make sure you have all the essentials you need.
Always ask the RV rental company about a 'utilities package' or a 'convenience package'. These are supposed to include the basic necessities like kitchenware, bedroom linin, cleaning supplies, bathroom supplies and other such necessary items that are imperative on the trip.
If the RV rental company does not offer any such utilities, then ensure to make a list of all the important things you will need and stock them up in the RV before you leave.
It's easy to get lost when on the road, especially when travelling to new locations. Just like cars, RVs too come with GPS navigation systems to help in finding the correct and easiest route to your destination.
It's difficult to maneuver a large RV vehicle, so instead of getting lost on the way, ask your rental company about the GPS options and features available to you.
Insurance is a very big concern when renting an RV from a company.  RV rental insurance can be purchased though the rental company itself and costs around $15 to $25 per day. You can also check with your personal auto insurance agent and see if your existing policy covers rented vehicles.  But keep in mind to clarify whether they cover a motorhome or not, as many do cover your risk when renting a 'car' but not otherwise.
Insurance helps in covering your liability when renting a RV, and takes care of collision and content coverage, and even medical payment coverage in some cases.
Does the RV rental company offer pickup and drop-off?
Many times you may plan to travel just one way in an RV and then fly back home instead, but how does the RV get deposited back? Most companies offer the option of picking up the RV from one location and dropping it off at another.
So, if you rented your RV motorhome at Los Angeles and drove to San Francisco, you have the option of dropping it off at the same company's office at San Francisco, without having to drive it back.
This convenient service is charged with a 'one way fee' depending on the distance between the two locations – as the distance increases, so does the fees.
Before you zero in on any RV rental company, make sure to check their customer reviews inline. If it is a well known and established website, you shouldn't have any problem finding feedback about their RVs and services on review websites, and you can also check their own website.
This is a good practice, as not everything is as good as it seems online, and getting an honest and second opinion can be a good way of determining whether the RV rental company matches your needs or not.
Which RV class do you need after asking yourself all these questions?
After having asked yourself all these questions, you will have a better idea of how to go about renting an RV for your next trip. Thinking about these important points before hand will help you choose the right RV for your trip that is convenient and has all the essentials you and your family needs while travelling.
Select the best companies around you, and compare them depending on your concerns and requirements. Check for their pricing options, mileage, RV type, rental features and benefits to properly make up your mind.
Here are some great RV rental companies for you to consider next time you plan on traveling by an RV motorhome!
Top RV rental companies in the US