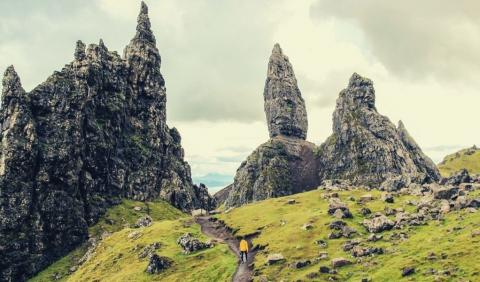 If you are interested in exploring the UK then taking a motorhome trip is a fantastic way to see some of the beautiful scenery on offer. There are some fabulous national parks to enjoy including the Lake District, Peak District and Snowdonia National Park. If you are heading up to Scotland then a drive from Edinburgh through the Scottish Highlands can be fantastic!
Today's blog is all how to plan a successful motorhome trip in the UK.There are a few things that you need to bear in mind when touring the UK in a Motorhome
The best time to go on a UK Motorhome Holiday
The weather in the UK is fairly unpredictable and can get a little too cold for camping and motorhome touring in the winter months (October to February). The best time to tour the UK in a motorhome is between May and September when the weather will be milder and the roads won't be treacherous (there can be a lot of snow and ice in some UK areas during the winter). 
However, another thing to consider is the school holidays. Avoid Easter holidays, half terms and the summer holiday (mid July to the start of September) when it can be busy and a lot of campsites with pools will be full of screaming kids!
What to pack for a UK Motorhome holiday
Pack a variety of warm and cool clothes due to the variable weather. A fleece, ran coat and sturdy walking boots are essential. Also make sure that you have GPS, a back up phone and a portable charger so that you can contact someone in an emergency. 
Book in Advance
In the UK, it is usual to have to book your Caravan Park in advance to avoid disappointment. There are not many places in the UK where it is safe or allowed to just pull up and park so you do need to pre plan your campsites or caravan sites. Sometimes if you are in a pickle, it may be possible to negotiate with a local farmer to park on their land for a small fee!
Where to go in the UK
Lake District
The Lake District is one of the most beautiful destinations in England. It is a national park in Cumbria in the North of England and famous for its ribbon lakes and jaw dropping scenery. Keswick, Ambleside and Kendal are all good destinations to base yourself. From there you will be able to do some fantastic hikes. 
Peak District
The Peak District is another popular English national park that is famous for cycling, hiking and bouldering. It is located just West of the city of Sheffield. The area has stunning landscapes and is popular with bird watchers and animal lovers as there are some amazing wildlife habitats. Some of the most popular destinations to base yourself include Buxton, Bakewell, Eyam and Castleton. 
The village of Eyam is known as the 'Plague Village' as the plague was bought to the village from London on a piece of cloth wiping out almost the entire village. It is full of history including plague victim graves and memorials. 
Snowdonia National Park
Snowdonia National Park is an outstanding spot of Natural beauty and a great place to tour. Pre-plan your routes as some small winding country roads could be challenging in a motorhome though! There are plenty of good campsites near Snowdon that you can book for your motorhome.
You will want to enjoy some of the amazing hikes in the area. If you have the stamina, climb Snowdon or Cadair Idris, the largest summit in Snowdonia. If you are looking for a more leisurely walk do a circular route such as the route around Lake Idwal. 
Scottish Highlands
If you are eager to explore the Scottish Highlands in your motor home then we have the perfect route for you - the North Coast 500 which is Scotlands version of route 66! It will take you from Inverness Castle along the coastal edges of the North Highlands of Scotland, taking in the regions of Wester Ross, Sutherland, Caithness, Easter Ross, the Black Isle and Inverness-shire.
While you are in the UK, you can also consider planning some stop off at some of the beautiful English Cathedral cities such as Bath, Canterbury and Oxford. 
Have a fantastic trip!