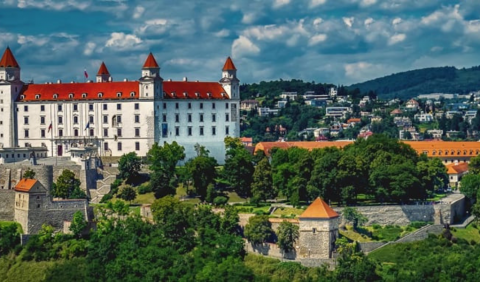 Vacationing in European countries is always a fun and fulfilling way to spend your holidays. The rich culture and varied experiences all over the continent are what makes trips there always a good idea. If you are looking for a new spot to visit on your next European vacation, plan a trip to Bratislava!
The city of Bratislava is the capital of Slovakia, and is also the political, cultural and economic centre of the country. While smaller than most capitals of Europe, Bratislava is a place that will let you experience many cultures all in one place, because the city has been influenced by various nations and religions, such as Austria, Hungary, Czechia, Germany, and of course Slovakia.
The city boasts of charming streets, beautiful architecture and an outdoor cafe culture that is quaint and romantic. Due to the fact that it isn't as popular as other places in Europe such as Paris, Amsterdam, Prague and such, it makes for a great place to visit even in the busy summer months. Bratislava is definitely an underrated city to visit in Europe, and you'll be surprised at how much it has to offer!
While Bratislava is a great place for families to travel as well, in recent years it has become a popular destination for stag parties, which has also created a sort of night life in the area.
There are many famous spots you can visit while in the city, which include Museum of City History, Hlavné Námestie (Main Square), Blue Church, Bratislava Castle, St Martin's Cathedral, Most SNP (UFO bridge), Roland's Fountain, and Hviezdoslavovo Námestie.
You also must visit the Old Town to get the full Bratislava experience, as it is the melting pot of history, festivals and the city's cafe culture. Other places to visit include the Danubiana Meulensteen Art Museum, and Soviet Monuments. You can also take a scenic river cruise to explore the city.
Since there are a lot of amazing places you can visit while in Bratislava, a great idea to simplify your itinerary would be to book a tour. This especially makes sense if you are a group of people and want to cover all the important and major spots. Find the Best Bratislava Tours for day or night and pick the perfect package for you.
The BratislavaMan is a great tour company that can help not just with sight seeing but also accommodation, dining, transfers and activities. You can pick from a relaxing and creative tour, a sports tour or a tour that focuses on food and drinks. Just let them know your requirements and they will get back to you with the itinerary, so you can safely and happily enjoy your vacation in the city of Bratislava!