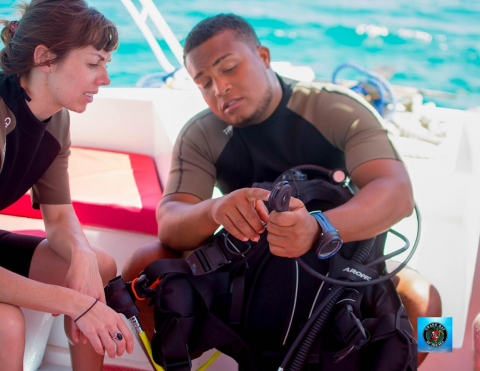 Scuba diving is something that most people have as a to-do on their bucket list. The allure of open water diving and experiencing the beautiful marine life feels surreal. Feeling weightless and exploring the vast waters around is something that not just feels dreamy but maybe a little daunting as well! 
There are several places in the world where you can truly experience scuba diving in all its glory and swim through crystal clear waters, exploring not just various marine life but also underwater wrecks and reef formations. Whether you are a first time diver and just want to get a glimpse of what the activity is all about, or are an advanced learner who wants to truly go deep and explore whats hidden beneath, scuba diving has a lot to offer. 
One of the best places to start your diving experience is Punta Cana, a resort town based in the easternmost region of the Dominican Republic. Located at the Caribbean Sea, the waters offer a vast variety of fish and reefs. In fact, the marine area around Punta Cana was also declared as a marine reserve in 2012. Apart from scuba diving, you can also go swimming with dolphins and sharks as well as go snorkelling with stingrays.
One of the most important factors when choosing to go scuba diving is finding the right instructors or company that has the knowledge and required skill to safely navigate the waters. Without the proper equipment and know-how, there is a chance you may not be able to completely and truly enjoy the diving experience.
If you've chosen scuba diving in Punta Cana, then Grand Bay of the Sea is a great choice to explore a whole new world under water. They offer diving sessions and courses on the reefs around Punta Cana as well as the surrounding areas, with a number of beautiful dive sites such as shallow coral reefs, wrecks, caves, and canyons habited by turtles.
Grand Bay of the Sea is a diving company run by a local family with over 15 years of experience. They offer several custom dive sites and packages such as Park Reef, Shark Point, Wreck Monica, Finger Coral Plantation, St. George Wreck, and several more. These dives are all located at different depths and offer astonishing view points under water. With qualified staff, up to date equipment, well-designed trips and courses, as well as personalised treatments for all their guests, they are one of the best in Punta Cana.