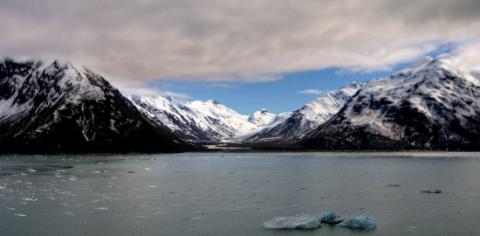 Alaska Rving
Rving in Alaska is not just a two week trip, plan for a much longer time because getting there and back is half the fun, enjoying the stops along the way. But if time is an issue then you have several options. Alaska is a large state with a lot to see, so if you are still working or have school age children you can plan a shorter trip and limit the area you cover.
A driver-friendly option is a sea-and-land tour via the Inside Passage. You can load your RV on the BC ferries in Seattle, Washington or British Columbia, or you can fly to Alaska and rent an RV. If you have the time there are many points of interest in the US and Canada on the way. A trip in itself is sightseeing in Glacier National Park, Calgary, Lake Louise, Banff and the Edmonton Mall before you get to the Alcan Highway.
Be sure to take a side trip to Skagway to ride the White Pass and Yukon Route Railway.
Experience the historic 1898 narrow gauge Klondike Gold Rush Railroad with breathtaking terrain, beautiful scenery, cascading waterfalls and sky-high trestles. Then back to Whitehorse and on to Tok, where a decision needs to be made whether to go southwest to Anchorage or north to Fairbanks. We went southwest first to Anchorage (largest city in Alaska) with good RV facilities and a place to rest and get supplies. A good side trip is Valdez, south end of the Alaskan pipeline, Museum of the earthquake, fish hatchery, glaciers and viewing the whales from a party boat. Viewing the glaciers from the boat is spectacular. The glaciers are all around, many hidden under the water.
For people who enjoy fishing, then Seward, Soldotna, Kenai and Homer is a must. For Halibut and King Salmon you must take a charter boat or rent a boat. Then back to Anchorage and north to Denali Park. A bus trip through the park is a must, if it is a clear day you can see the top of Mount McKinley. Be sure to visit the World largest coal mine just north of the park. Then on to Fairbanks, be sure to take the Riverboat cruise to learn about the Eskimos way of living and surviving off the land in the frigid winters. They must catch and cure one salmon per sled dog per day. The salmon season is not that long and just think about cleaning that many salmon for ten or twelve dogs.
Also while in Fairbanks visit the factory where they make beautiful bowls from trees.
Then back to Tok for the rugged Top of the World Highway that takes you on to Chicken and Dawson City on your way through the Yukon to Whitehorse. Then you must decide your route home, the eastern route back to Edmonton or the Western route to Prince George then the US. There are many State Parks in Canada on lakes with Rving sites.
An investment well worth the money is the Milepost, a book for your trip to and while you are in Alaska, milepost by milepost starting at Dawson Creek, British Columbia, milepost 0. This book makes rving in Alaska easy. Remember your passport as you will need one, so it is best to apply for one now.