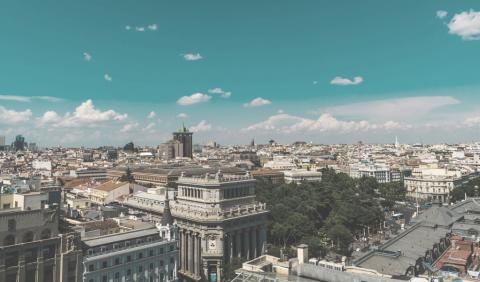 When thinking about traveling to Europe, Spain is one of the most popular destinations on anyone's list. With beautiful cities to visit, an immersive cultural experience and mouth watering food, Spain has a lot of offer and will make for an amazing vacation for a solo backpacker, family or even a romantic holiday for a couple.
While there are other popular places to visit in Spain such as Barcelona, Seville and Granada, one of the most visited places in Spain is its capital, Madrid. It is a golden metropolis that has a high energy filled with people and beguiling places to visit. The city is the perfect fusion of historical architecture and culture with modern and urban lifestyle. This melting pot of many different elements, will take you to varied places such as amazing museum exhibitions, beautiful rooftop bars and nightclubs, as well as luscious green parks among other places to visit.
The city is always hustling and bustling with lively people who really know how to enjoy life to the fullest! The architecture there reflects the cultural significance of their history and roaming the streets in Madrid will give you the feeling of elation and give you a sense of how the Spaniards live.
For traveling and staying also there are a number of affordable and great options. Travelling around the city is easily possible with the metro system that is super simple to navigate and is even cheaper than most other European countries. For traveling to local suburbs, you can also easily catch a bus or local train.
For staying in Madrid, there are a number of accommodations available including home stays, Airbnbs, luxury hotels as well as some amazing hostels. Depending on who you are ravelling with, you can pick of these places to stay. If you are looking for a more affordable option then there are a number of hostels to pick from.
Staying in a hostel can be a lot of fun specially if you like meeting new people and love socialising. There are plenty of hostels available but to pick the best hostel in Madrid for you to stay, all you need to do is a little research depending on what kind of a hostel you are looking for. Hostels are cheap and fun and provide a great way to really immerse yourself in the country's culture as well as meet new people from different counties!
If you are planning a trip to Madrid or anywhere else in Spain, make sure to do your research about accommodations and check that they are to your liking, fit in your budget as well as are in locations it is easy to travel from.