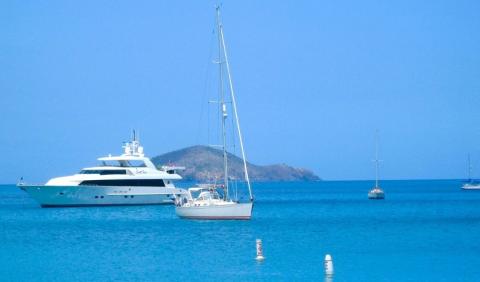 Every time we think about planning a holiday, the first go to for accommodations is hotels or Air BnBs. This has been the norm and most people opt for these options as they find them to be the safer option. But when your holiday destination is one that is filled with vast and open waters, why not charter a yacht and get your own private villa on the water!
If you are planning your next vacation and Greece is your destination, then chartering a yacht is an exciting way to explore the islands. Explore the irresistible mystique of Greece and enjoy the marvellous climate the place has to offer on your sailing holiday. It is one of the best ways to relax and unwind, especially for a sailing enthusiast as you can traverse through the clear azure waters with visions of deep blue skies. A constant breathtaking scenery of blue and white villages, seaside tavernas, and exotic locales will only add to the allure.
Getting a Luxury Yacht Charter in Greece is not just easily possible but also an affordable and safe option to choose. Booking a luxury yacht does not cost any more than renting a room on land and is at par with hotel per night rates. Experience the magic that Greece has to offer on your private floating villa, cruising through sparkling clear waters and a view of the picturesque and unspoiled coastline. Another advantage of chartering a yacht is that you can combine the costs of accommodation and transportation between islands, since you can move around easily. It is a safe and reliable option, and also a very common way of travelling for Greek residents.
These luxury yachts are well equipped and maintained to enjoy independent or skippered sailing. Choose from different yacht sizes depending on your needs and number of people travelling with you. If you are a pro sailer then you can choose a non-crew option, but if you want all the luxuries of having a captain and a crew, then such options are also available.
If you are looking for a yacht chartering company in Greece, Seafarer has over 100 perfectly maintained yachts, from 31 feet to 61 feet. They hare available at 8 locations around the islands to enjoy the best cruising areas of the Mediterranean Seas - Athens, Cyclades, Ionian Sea, Dodecanese, Lavrion, Skiathos, Volos, and Halkidiki. Choose from Bareboat Yacht Charters and Crewed Yacht Charters, as well as Corporate Yacht Charters to suit your needs. Choose Seafarer to experience an unforgettable vacation in the Greek islands as yacht chartering is one of the most exciting holiday possibilities ever!