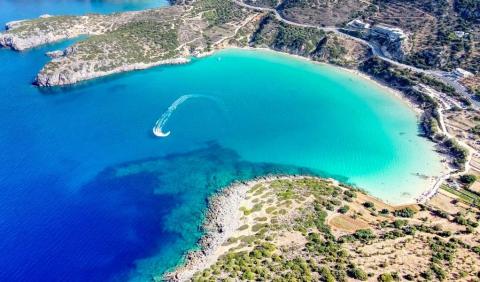 Greece is a beautiful holiday destination that is on everyone's travel list. The scenic allure of crystal clear water and the coastlines of blue and white villages is more than breath taking. These exquisitely beautiful islands are one of the most popular and most visited tourist locations in Europe and see thousands of visitors each year from different parts of the world.
Experiencing a holiday in Greece at least once in a lifetime is a must and if you are finally planning to fulfil that dream - it is time to do so in style!
While the norm for most people is to book a hotel or a home on AirBnB, why not experience a luxury vacation and book a beautiful suite right next to the beach instead? Book luxurious Holiday Apartments in Crete and elevate the way you go on holidays by truly experiencing the grandeur of Greek culture, and get immersed in a mix of scenic views and Azure coloured waters. 
Chrysiida Suites is one such luxury accommodation that offers elegant and spacious suites. It is located in Chorafakia, a quiet village in Akrotiri, Chania and the suites are a mere 500 meters from the untouched, sandy, and quiet beach of Tersana. This location is also slightly far from the hustle and bustle of popular tourist locations, thus providing a quiet and relaxing environment for their guests.
It is a spectacular place that combines special experiences, relaxation, and exotic delicacies. The suites offer an elegant architectural construction with panoramic views and beautiful, sandy coastlines. The property is also just 2 km each from the well-known and cosmopolitan beaches of Stavros and Kalathas. The crystal clear waters and beautiful shore allow you to enjoy sunbathing, swimming, and relaxing with your family and friends.
Such a unique place ensures that you will have the most luxurious and enjoyable vacation of your life! The staff offers stellar services with incomparable hospitality and will create a tailored experience for you and your family or friends. The Chrysiida Suites property has two 140 sq.m independent apartments with private terraces, as well as a smaller 70 sq.m independent house also with a private terrace. Get a spectacular 180 degree sea view from the suites as well as the 1000 sq.m. lush gardens and 300 sq.m. pool area. They also follow all the necessary COVID-19 safety and sanitisation protocols to ensure the safety of their guests. 
Book your stay at Chrysiida Suites and experience wonderful moments in one of the most beautiful corners of Greece!