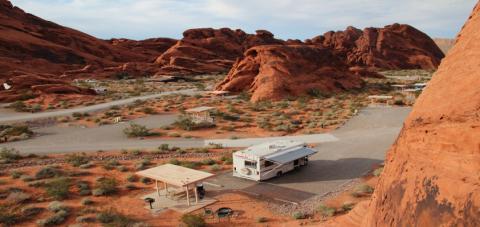 El Monte RV pride themselves for being one of the largest and best RV rental company anywhere, El Monte RV have a lot of knowledge and experience working with both RVers and RVs. Their considerable knowledge has made it possible for them to put together a selection of well-liked adventures and activities their clients and their motorhomes have participated in. Make your trip in one of their RVs the vacation of a lifetime for you and your family!
With over 40 years of experience in the motorhome rental industry here are some of the reasons for renting from El Monte RV:
Airport transfers at some locations.
All vehicles have plenty of amenities, including full kitchen, bathroom, dining area, drivers and cabin air conditioning, generator and more!
Complete motorhome rental instruction.
Comprehensive vehicle walk-thru and check-in.
Convenience kits available at the majority of locations.
Customer Service oriented.
Full range of RVs, including Class A, Class A Luxury, Class C and trailers (in some locations).
GPS navigation system available at selected locations.
Knowledgeable and helpful reservations staff in their Call Center.
Multi-lingual staff.
Nationwide locations, the majority are open on Sunday.
Simple online reservations.
Slide-out units available.
Temporary housing and one-way RV rentals available.
Toll Free Roadside Support for on road issues.
Vehicles sleep from one to eight people.
RV Rentals / Motorhome Rentals from El Monte RV
Arizona

Phoenix RV Rentals

California

Corona RV Rentals
El Monte RV Rentals
Irvine RV Rentals
Los Angeles RV Rentals & Sales
Los Angeles RV Rentals
Newport Beach RV Rentals
Sacramento RV Rentals
San Bernardino RV Rentals & Sales
San Diego N RV Rentals
San Francisco RV Rentals & Sales
San Francisco RV Rentals
Santa Cruz RV Rentals
Van Nuys RV Rentals
Victorville RV Rentals

Colorado

Denver RV Rentals

Florida

Miami RV Rentals
Orlando RV Rentals & Sales

Illinois

Chicago West RV Rentals

Kentucky

Louisville RV Rentals

Maryland

Baltimore So. RV Rentals

Massachusetts

Boston RV Rentals

Nevada

Las Vegas RV Rentals & Sales
Las Vegas So. RV Rentals
Reno Labor Day Event
Reno RV Rentals

New Jersey

Linden RV Rentals

New York

New York RV Rentals

Pennsylvania

Kingston RV Rentals

Texas

Dallas RV Rentals
Dallas RV Rentals & Sales
Palmer RV Rentals

Utah

Salt Lake City RV Rentals

Virginia

Roanoke RV Rentals

Washington

Ferndale RV Rentals
Class A Bus Motorhome FREE GENERATOR

Slideout AC37 Luxury Class RV
Length: 37 ft.-37 ft. | Maximum Passengers: 5

Slideout AS32 RV
Length: 32 ft.-34 ft. | Maximum Passengers: 4

Slideout AF34 Family Sleeper RV
Length: 34 ft.-35 ft. | Maximum Passengers: 6

Slideout AB35 RV
Length: 34 ft.-35 ft. | Maximum Passengers: 5

Towables

Quantum 5th Wheel
Length: 39 ft.-39 ft. | Maximum Passengers: 7

Regal 5th Wheel
Length: 38 ft.-39 ft. | Maximum Passengers: 6

5th Wheel 38' SW
Length: 38 ft.-41 ft. | Maximum Passengers: 4

T30 Trailer
Length: 30 ft.-30 ft. | Maximum Passengers: 5

Towable Trailer L18
Length: 22 ft.-23 ft. | Maximum Passengers: 5

Towable Trailer L21
Length: 24 ft.-25 ft. | Maximum Passengers: 5

Class C Cabover Motorhome FREE GENERATOR

Cabover C22 RV
Length: 22 ft.-22 ft. | Maximum Passengers: 5

Cabover C25 RV
Length: 23 ft.-25 ft. | Maximum Passengers: 5

Cabover C28 RV
Length: 27 ft.-29 ft. | Maximum Passengers: 5

Funmover RV
Length: 31 ft.-31 ft. | Maximum Passengers: 4

Class C Slideout Cabover Motorhome FREE GENERATOR

Cabover CS25 Slideout RV
Length: 25 ft.-26 ft. | Maximum Passengers: 5

Cabover CS26 Slideout RV
Length: 26 ft.-27 ft. | Maximum Passengers: 5

Cabover CS28 Slideout RV
Length: 28 ft.-30 ft. | Maximum Passengers: 6

Cabover CS30 Slideout RV
Length: 30 ft.-31 ft. | Maximum Passengers: 6

Cabover FS31 Slideout RV
Length: 31 ft.-32 ft. | Maximum Passengers: 8