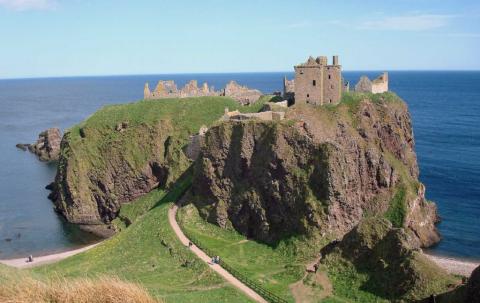 Scotland is a fantastic place to drive your motorhome. It offers beautiful Churches, castles and scenery. Many people opt for a two week to one month circular drive around the whole of Scotland. However, if you have less time or enjoy taking it at a slower pace then consider the A90 route that will allow stops at the following destinations:
Glasgow > Edinburgh > Perth > Dundee > Aberdeen
Tips for Driving in Scotland
Remember that Scotland can get extremely cold on the winter and so you should pack plenty of fleeces and blankets in the car with you. A flask of hot tea wouldn't go amiss. Some parts of Scotland are remote and so it's a good idea to have a spare mobile phone and a solar or battery operated charger in case you break down. Check the local weather forecast for bad weather warnings. 
Glasgow to Aberdeen - The Route
This route can be done as quickly as 5-7 days, but if you are a slow traveller like myself, I suggest that you spread it over two weeks to fully appreciate what the East Coast of Scotland has to offer. Spend at least 2-3 days in each destination and if possible, spend at least 5 days in Edinburgh and the surrounding areas (such as a visit to Rosslyn Chapel). There are also some amazing castles near Aberdeen that you might want to explore.
Here is a rough outline of the route:
Glasgow to Edinburgh - M8 (or go on the M80 via Stirling Castle and then the M9 to Edinburgh)
Edinburgh to Perth - M90
Perth to Dundee - A90
Dundee to Aberdeen - Continue along A90
There are some amazing thing to see en-route. Here is a rough outline of the highlights:
Glasgow
Glasgow is the largest city in Scotland and its cultural and financial centre. It's also a vibrant place with a well-deserved reputation for friendliness, especially towards Americans (though watch out for Glaswegians bearing gifts). Don't miss Glasgow Cathedral and the Necropolis. 
Glasgow is most famous for its museums and art galleries.The Burrell Collection is one of the most popular. It was originally built in 1943 by Sir William Burrell as a shipping magnate before turning his attention to philanthropy after he inherited a large sum of money from his father. In 1944, he donated his collection of over 8000 artworks to the people of Glasgow, creating The Burrell Collection for everyone to enjoy. You might also like to visit The Glasgow Museum of Transport, St Mungo Museum of Religious Life and Art, the Riverside Museum and the People's Palace. 
Edinburgh
Edinburgh, the capital of Scotland is one of the most popular UK tourism destinations and it's not hard to see why. Admire the beauty of Edinburgh Castle and St Giles Cathedral. Take a whiskey tour and walk through the quirky streets which are great for evening ghost tours! If you enjoy walking then take the time to walk up to Arthur's seat, which gives a wonderful view over the city. 
Perth
Perth is home to two major universities and, as such, students make up a large part of Perth's population. The number of bars and pubs in Perth may be on the decline but you can still find a good night out on one of Scotland's oldest streets: South Street. The city also hosts several major festivals during the year including Perthshire Amber, the Festival of Perth and the Air festival. If you can time your trip with one of those then it could be worth staying a little longer than a day or so. 
Dundee
Dundee is a lovely little stop off that is a cheaper and more relaxed city than Edinburgh and Glasgow. Don't miss the V&A museum, the McManus Art gallery and St Paul's Episcopal Cathedral. If you are happy to travel slightly out of Dundee, and it's worth it, head over the water to the Broughty Castle Museum. You can also head North for half an hour to visit Glamis Castle. 
En route to Aberdeen, there are plenty of excellent stops along the way including Dunnottar Castle. 
Aberdeen
Your journey will end in Aberdeen, the city of Granite. But there is a great deal to see in the city and also in the surrounding areas. If you are a gin drinker then make sure that you head to the gin distillery to see how it's made and partake in some tasting! Check out the University buildings including Kings College. If you are interested in Churches then you will want to visit St Mary's of the Assumption Cathedral, St Machar Cathedral and St Andrews Cathedral. 
If you do make this trip, let us know how you get on - we'd love to hear from you! What was your favourite destination?