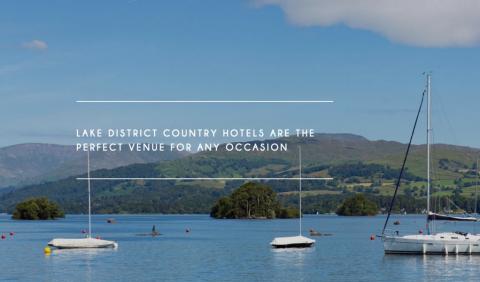 If you're planning a romantic mini-break anytime soon, then you should definitely add the Lake District to your list of places to consider if you haven't already. The Lakes is definitely one of the most romantic areas of the UK, and it isn't hard to see why it has inspired many of the great poets with its natural beauty.
The natural beauty
We spoke to Lake District Country Hotels who told us "lots of people choose to come and stay with us for a romantic break because of the sheer beauty of the area. After all, the Lake District did inspire some of the great romantic poets, and it's definitely one of the most romantic parts of the UK!"
It's also a great place to visit if you are artists or photographers, as there are plenty of breathtaking views to capture, and it's the perfect backdrop for creating memories you'll cherish over your years together.
There are plenty of romantic walks to enjoy
There's nothing nicer than a walk with your love on a beautiful day, and luckily the Lake District is full of romantic spots where you can do just that. Whether you enjoy a casual stroll around a lake or a full day of hiking to find the best vantage points, there's something to suit you.
Ennerdale Water is a spot that is often overlooked as it is in one of the more remote areas of the Lake District, but it's a great place to go if you want to avoid the crowds. Bill Clinton even proposed to Hillary in this spot, so it definitely has the romance factor.
If you want a nice long walk, the Walk Lakes website lists hundreds of routes throughout the Lakes, and they're each graded by difficulty so you can be sure to choose one that's suitable for your ability.
There's plenty of choices if you fancy a romantic meal
The Lake District is something of a foodie paradise, so if you're hoping to head out for a romantic meal during your stay then you are in luck! There is plenty to choose from, whether you want to go for something really fancy, or something a little bit hearty.
The Lake District is home to a number of Michelin Star restaurants, so if you enjoy dining at its finest then you should definitely consider booking yourself a table at one of these prestigious eateries for your stay.
There are also lots of wonderful cafes and restaurants with a more casual feel if you don't feel like anything too fancy. Homeground Cafe & Kitchen is a favorite spot for visitors to the area and locals alike, and Chesters By The River is another great place to head for lunch or some cake. Whichever part of the Lakes you visit, there's sure to be somewhere great to grab a bite to eat near where you are!
We hope this has given you a few ideas as to why the Lake District is the perfect destination if you're planning a romantic break away anytime soon!